Prevention is key
At Acton Veterinary Group, our goal is to improve your pet's health and well-being so you can enjoy many more happy years together. That's why we believe so strongly in the power of preventative care. The best way to keep your companion as healthy and happy as possible is to have a comprehensive pet wellness plan in place, which includes regular physical examinations.
Why Are Pet Wellness Exams Important?
Bi-annual examinations are the foundation of any pet wellness plan. When our highly-trained veterinarians examine your pet on a regular basis, they're able to gain a better understanding of your pet's baseline health. Pets age much more rapidly than humans do, which means it's essential to catch potential problems before they become serious. We need to assess your pet twice per year in order to detect changes as they develop.
The wellness exam includes a complete nose-to-tail assessment. During this exam, our veterinarian thoroughly evaluates the condition of your pet's health. Your pet's wellness exam may include the following:
Weight check to ensure that your pet is within a healthy range
Physical examination of your pet's eyes, ears, skin, etc.
Assessment of your pet's temperature
Evaluation of the teeth and gums to check for signs of dental disease
Listen to the heart and lungs
Mobility or lameness exam
Diagnostic testing, if necessary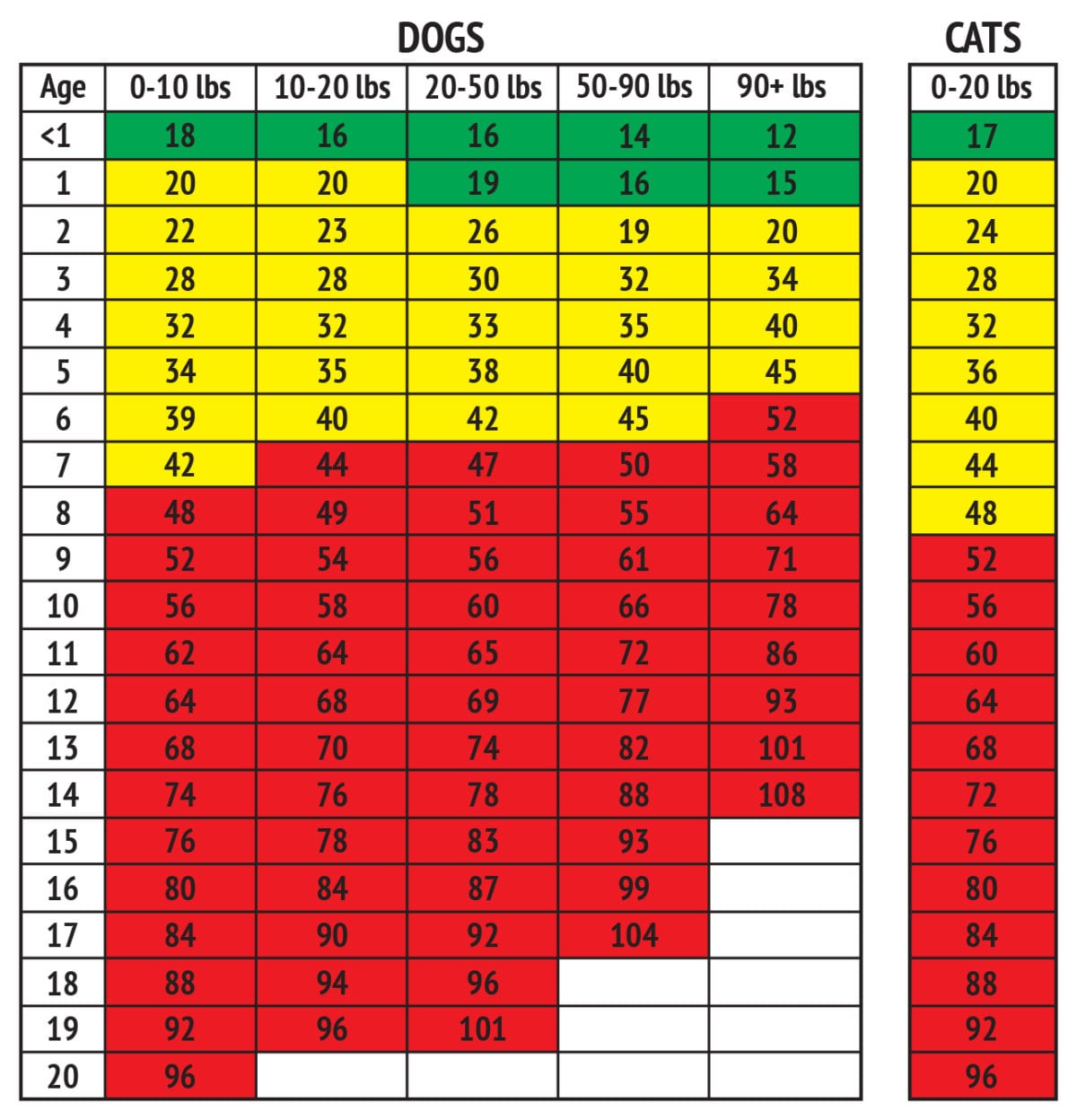 Decoding the Chart
Depending on which color category your pet fits into, different diagnostic tests may need to be administered.
GREEN – Every 3-4 Weeks until age 4 months
Fecal and Heartworm tests
Preventative Care Exam
Vaccinations vary by species
YELLOW – Every 12 months
Annual Preventative Care Exam
Annual Preventative Health Screen including CBC, Chemistry, HW test, and Fecal
RED – Every 6 months
Annual Senior Preventative Health Screen including CBC, extended Chemistry, HW Test, Thyroid test, Urinalysis, and Fecal
Biannual Health Screening will vary by patient.
Biannual Preventative Care Exam
If you have any questions while our vet is conducting your pet's wellness exam, feel free to ask. We know that well-informed pet owners are the very best pet owners so we're happy to equip you with the information you need to care for your precious pet.